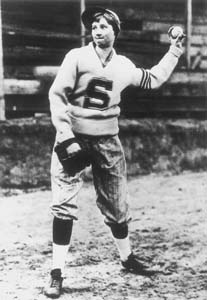 "Jackie" Mitchell Gilbert, born on August 29, 1912, 1913 or 1914, was one of the first female pitchers in professional baseball history. Pitching for the Chattanooga Lookouts Class AA minor league baseball team in an exhibition game against the New York Yankees, she struck out Babe Ruth and Lou Gehrig in succession.
The New York Yankees and the Chattanooga Lookouts were scheduled to play an exhibition game in Chattanooga, Tennessee on April 1, 1931. Due to rain the game was postponed until the next day. Seventeen-year-old Jackie Mitchell, brought in to pitch in the first inning after the starting pitcher had given up a double and a single, faced Babe Ruth. After taking a ball, Ruth swung and missed at the next two pitches. Mitchell's fourth pitch to Ruth was a called third strike. The crowd roared for her. Next up was Lou Gehrig, who swung through the first three pitches to strike out.
Babe Ruth was quoted in a Chattanooga newspaper as having said:
"I don't know what's going to happen if they begin to let women in baseball. Of course, they will never make good. Why? Because they are too delicate. It would kill them to play ball every day".
A few days after Mitchell struck out Ruth and Gehrig, baseball commissioner Kenesaw Mountain Landis voided her contract and declared women unfit to play baseball as the game was "too strenuous".