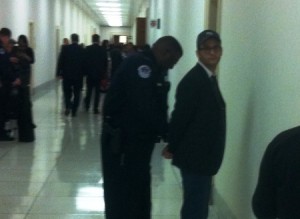 WASHINGTON -- In a stunning break with First Amendment policy, House Republicans directed Capitol Hill police to detain a highly regarded documentary crew that was attempting to film a Wednesday hearing on a controversial natural gas procurement practice. Initial reports from sources suggested that an ABC News camera was also prevented from taping the hearing; ABC has since denied that they sent a crew to the hearing.
Josh Fox, director of the Academy Award-nominated documentary
"Gasland"
was taken into custody by Capitol Hill police this morning, along with his crew, after Republicans objected to their presence, according to Democratic sources present at the hearing. The meeting of the House Subcommittee on Energy and Environment had been taking place in room 2318 of the Rayburn building.
HuffPost has obtained exclusive video of the arrest of Josh Fox. Rep. Brad Miller (D-N.C.), the ranking Democrat on the subcommittee, can be heard at the end of the clip asking Republican Chairman Andy Harris (R-Md.) to halt the arrest and permit Fox to film the public hearing. Harris denies Miller's request as Fox is escorted out of the hearing in handcuffs.
WATCH Capitol Hill Police Arrest a Journalist for Filming a Public Hearing: (story continues below)
"Gasland" received strong critical acclaim and takes a critical eye toward the practice of hydraulic fracturing, or "fracking," a process in which several tons of highly pressurized water and chemicals are injected into the ground, allowing valuable natural gas to escape. The practice is decried by ecological experts for destroying ecosystems and polluting groundwater. The energy industry keeps the actual content of fracking chemicals secret.
Fox had hoped to film Wednesday's hearing for a follow-up to "Gasland." Fox told HuffPost later Wednesday evening, "We did get his staff on the phone, they never returned the phone call," referring to staffers for Chairman Harris. "This is not transparency. This is a lockout and it's bad. It's the people's House, after all. We went through the proper channels to arrange to tape this hearing. We have taped congressional hearings before and we've been turned down before, but I disagree with the policy. Anyone who says they're a journalist is a journalist. It's called the First Amendment. It's the freedom of the press, and that is fundamental to our core identity as the United States of America."
Hearings are open to the public, and any citizen can attend. Regulations only govern the use of cameras. Even under an extreme adherence to the rules, Fox's camera could have been confiscated or disabled without subjecting him to arrest. And while Fox did not have formal Capitol Hill credentials, such formalities are rarely enforced against high-profile journalists. Temporary passes are easy to obtain, and if Republicans had objected on procedural grounds, they could have simply sent the crew to the front desk, rather than ordering police to arrest journalists. The right to a free press is protected by the First Amendment to the U.S. Constitution. Documentary crews are almost never denied access to public meetings of elected government officials.
UPDATE: 12:09 p.m. -- Capitol Police public information officer Sergeant Kimberly Schneider provided the following statement to HuffPost on the morning's events:
"At approximately 10:30 a.m. today, United States Capitol Police arrested Joshua Fox of Milanville, Pa. in room 2318 of the Rayburn House office building. He is charged with unlawful entry, and he is currently being processed at United States Capitol Police headquarters."
UPDATE: 2:27 p.m. -- Fox apparently had applied for credentialing the day before the hearing but had been unable to obtain official permission to film. He had asked a credentialed film crew to tape the proceedings on his behalf but was informed that this was not permitted.
Nevertheless, turning away journalists is extremely rare on Capitol Hill. The rules requiring pre-approval for film crews are designed to prevent hearings from being disrupted by hordes of camera operators. That was not the case for this hearing. Only two cameras requested entrance to the event, which was not crowded.
Subcommittee Chairman Andy Harris (R-Md.) was unavailable for comment, but several Democrats on the committee voiced outrage with the GOP's press blackout.
"I was chair of the Subcommittee for four years, and we frequently had people show up the day of a hearing to film," Rep. Brad Miller (D-N.C.) told HuffPost. "We asked for their name, but they were told if they would not disrupt the hearing, they were free to record. A couple of times staff said, 'You're getting in the way, don't stand there,' but other than that, I do not ever recall anything like this. We certainly never turned anyone away for not providing 24 hours' notice."
"It's an outrageous violation of the First Amendment," Rep. Zoe Lofgren (D-Calif.) told HuffPost. "Here we've got an Academy Award-nominated filmmaker, and it's an important subject and the subject that he did his prior film on for HBO. And they put him in handcuffs and hauled him out of there. This is stunning."

"I found it ironic that there was not a flood of cameras there," noted Rep. Paul Tonko (D-N.Y.). "There was the one camera and then before that, the ABC camera ... if you have a camera there to bring the issue home to the public, that's a good thing."
The hearing was already being filmed by C-SPAN. Josh Fox had only sought to obtain higher-quality video by bringing their own cameras to the event. Democrats attempted to suspend the rules governing camerawork to allow Fox and ABC to film the hearing, but Republicans, who hold a majority on all House committees and subcommittees, voted down the motion. Democrats then sought to postpone the hearing to allow for filming at a later date, a motion which Republicans also overruled.
UPDATE: 3:45 p.m. -- Republican staffers told Democrats that a crew for ABC News had also been denied access to the event, but ABC News told HuffPost that their organization did not have any journalists assigned to cover the hearing. It is not clear what caused the confusion.
"We definitely did not have a crew on the Hill this morning to cover this hearing," an ABC News spokeswoman told HuffPost. "The individual who was turned away absolutely did not have ABC news credentials."
UPDATE: 4:45 p.m. -- Rep. Jerry Nadler (D-N.Y.) told HuffPost, "I have served in the House of Representatives since 1992, and I had the privilege of chairing the Subcommittee on the Constitution, Civil Rights, and Civil Liberties. In all that time, I cannot recall a chair of any committee or subcommittee having ever ordered the removal of a person who was filming a committee proceeding and not being disruptive, whether or not that person was accredited. It is a matter of routine that all sorts of people photograph and record our proceedings. Most of them are not accredited. I cannot recall anyone questioning their right to be there."
Arthur Spitzer, legal director of the ACLU in Washington, explained that "congressional committees routinely allow professional journalists to record hearings even when they don't have official press credentials, and excluding a journalist because he doesn't share the political views of the committee chair is outrageous. The Supreme Court has explained many times that censorship based on viewpoint is the clearest kind of First Amendment violation, and that seems to be what happened here."
Josh Fox, meanwhile, has issued the following statement to the press:
I was arrested today for exercising my First Amendment rights to freedom of the press on Capitol Hill. I was not expecting to be arrested for practicing journalism. Today's hearing in the House Energy and Environment subcommittee was called to examine EPAs findings that hydraulic fracturing fluids had contaminated groundwater in the town of Pavillion, Wyoming. I have a long history with the town of Pavillion and its residents who have maintained since 2008 that fracking has contaminated their water supply. I featured the stories of residents John Fenton, Louis Meeks and Jeff Locker in GASLAND and I have continued to document the catastrophic water contamination in Pavillion for the upcoming sequel GASLAND 2. It would seem that the Republican leadership was using this hearing to attack the three year Region 8 EPA investigation involving hundreds of samples and extensive water testing which ruled that Pavillion's groundwater was a health hazard, contaminated by benzene at 50x the safe level and numerous other contaminants associated with gas drilling. Most importantly, EPA stated in this case that fracking was the likely cause.

As a filmmaker and journalist I have covered hundreds of public hearings, including Congressional hearings. It is my understanding that public speech is allowed to be filmed. Congress should be no exception. No one on Capitol Hill should regard themselves exempt from the Constitution. The First Amendment to the Constitution states explicitly "Congress shall make no law...that infringes on the Freedom of the Press". Which means that no subcommittee rule or regulation should prohibit a respectful journalist or citizen from recording a public hearing.

This was an act of civil disobedience, yes done in an impromptu fashion, but at the moment when they told me to turn off the cameras, I could not. I know my rights and I felt it was imperative to exercise them.

When I was led out of the hearing room in handcuffs, John Boehner's pledge of transparency in congress was taken out with me.

The people of Pavillion deserve better. The thousands across the US who have documented cases of water contamination in fracking areas deserve their own hearing on Capitol hill. They deserve the chance to testify in before Congress. The truth that fracking contaminates groundwater is out, and no amount of intimidation tactics --either outright challenges to science or the arrest of journalists --will put the genie back in the bottle. Such a brazen attempt to discredit and silence the EPA, the citizens of Pavillion and documentary filmmaking will ultimately fail and it is an affront to the health and integrity of Americans.

Lastly, in defense of my profession, I will state that many many Americans get their news from independent documentaries. The hill should immediately move to make hearings and meetings accessible to independent journalists and not further obstruct the truth from being reported in the vivid and in depth manner that is only achievable through long form documentary filmmaking.

I will be thinking on this event further and will post further thoughts and developments.

I have been charged with "unlawful entry" and my court date is February 15.

Josh Fox
Washington D.C.
2/1/12
Source