Syria: more than 200 dead after 'massacre' in Homs
Observers claim deaths came after shelling by security forces on eve of UN vote on removal of Bashar al-Assad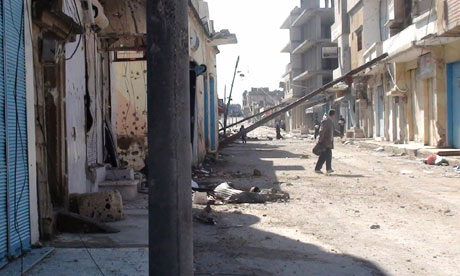 More than 200 people were reported to have been killed yesterday in the Syrian city of Homs as security forces continued their efforts to take back opposition-held areas on the eve of a vote by the UN security council on a much-disputed resolution on the country.
Rami Abdulrahman, the head of the campaign group, said that women and children were among 217 people killed, many of them in the Khalidya district of the city.
"Syrian forces are shelling the district with mortars from several locations, some buildings are on fire. There are also buildings which got destroyed," Abdulrahman told Reuters.
Russia, which threatened on Thursday to veto the text, had promised to submit suggestions for revising the draft on Friday. Diplomats said the drafters had received no proposals from the Russian delegation so far.
The US secretary of state, Hillary Clinton, spoke on Friday by telephone with the Russian foreign minister, Sergey Lavrov, in an effort to overcome Russian opposition to any statement that explicitly calls for regime change or military intervention in Syria.
A spokesperson for Clinton said that she and Lavrov agreed to have US and Russian diplomats continue to work on a Syria resolution and were planning to meet for more talks in the German city of Munich, where both figures are attending a security conference.
Russia's deputy foreign minister, Gennady Gatilov, also said on Friday that Moscow could not support the resolution in its current form but he expressed optimism that an agreement could be reached, according to state news agency RIA Novosti.
The latest draft includes changes made by Arab and European negotiators to meet some of Russia's concerns. It calls for a "Syrian-led political transition," does not criticise arms sales to Syria and leaves out some of the details of what the Arab plan entails, such as Assad transferring power to a deputy. But the draft still says the council "fully supports" the Arab plan, language Moscow has said it dislikes.
Israel's deputy foreign minister, Danny Ayalon, meanwhile predicted on Friday that Assad will fall from power eventually but the process could be "long and bloody".