Misty Erie May-Treanor is an American professional volleyball player and actress. She has won more tournaments than any other female player with 107 career wins.
May-Treanor and teammate Kerri Walsh were the gold medalists in beach volleyball at both the 2004 and 2008 Summer Olympics. They have been called "the greatest beach volleyball team of all time."
Misty E. May was born in Los Angeles, California in 1977. She grew up playing beach volleyball at the Santa Monica Pier with her parents, Butch and Barbara. At age eight, she played her first volleyball tournament with her father, and played other sports like soccer and tennis, as well as participating in dance.
May-Treanor spent her high school years in Costa Mesa, California. She attended Newport Harbor High School from 1991 through 1995. There, she helped her team win two state championships in indoor volleyball in 1992 and 1994.
May-Treanor played volleyball for the Long Beach State 49ers from 1995 to 1999. The 1998 team that May-Treanor was the captain of was the first women's NCAA volleyball team to have an undefeated season.
The team of Misty May and Kerri Walsh won the gold medal at the 2004 Summer Olympics by defeating the Brazilian team in the finals.
In 2008, May-Treanor and Walsh repeated as Olympic gold medalists, defeating the first-seeded Chinese team in two games. They are the only beach volleyball team to repeat as gold medalists.
Misty May-Treanor, two-time Olympic Gold Medalist and professional beach volleyball player was the 2009 spokesperson for the Calm-A-Sutra of Tea Scholarship Competition.
United States' Misty May-Treanor, right, and teammate Kerri Walsh celebrate after the gold medal women's beach volleyball match against China at the Chaoyang Park Beach Volleyball Ground at the Beijing 2008 Olympics in Beijing, Thursday, Aug. 21, 2008.
Nicole Branagh (left) and Misty May-Treanor spray fans with champagne following the pair's win over Annett Davis and Jenny Johnson Jordan in the women's beach volleyball final at the AVP Long Beach Open on Sunday, July 25, 2010, in Long Beach, Calif.
Beach volleyball players Misty May-Treanor and Kerri Walsh pose in the press room during the 2009 ESPY Awards.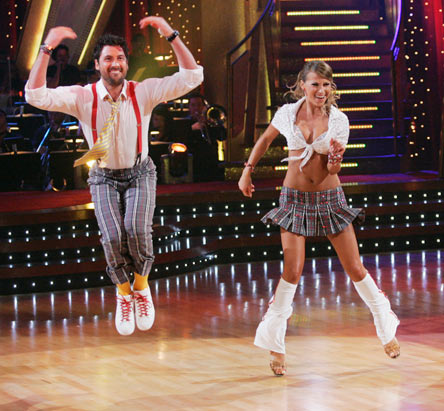 Olympic gold medalist Misty May-Treanor's "Dancing With the Stars" days ended abruptly when she tore her Achilles tendon Oct. 3, 2008, while rehearsing a jive dance with with professional partner Maksim Chmerkovskiy.
Misty May-Treanor and her partner Maksim Chmerkovskiy perform Monday, Sept. 29, 2008 on "Dancing With The Stars," in Los Angeles.
Misty May signals teammate Kerri Walsh during the AVP Beach Volleyball tournament in 2003 in Chicago.
|
Misty May-Treanor is shown in a rehearsal studio with her partner Maksim Chmerkovskiy, for the "Dancing with the Stars" competition in 2008.
Misty May-Treanor prepares to serve at the 2008 AVP Crocs Slam Boulder Open in Boulder, Colorado
May-Treanor (left) in a bear-hug with Kerri Walsh